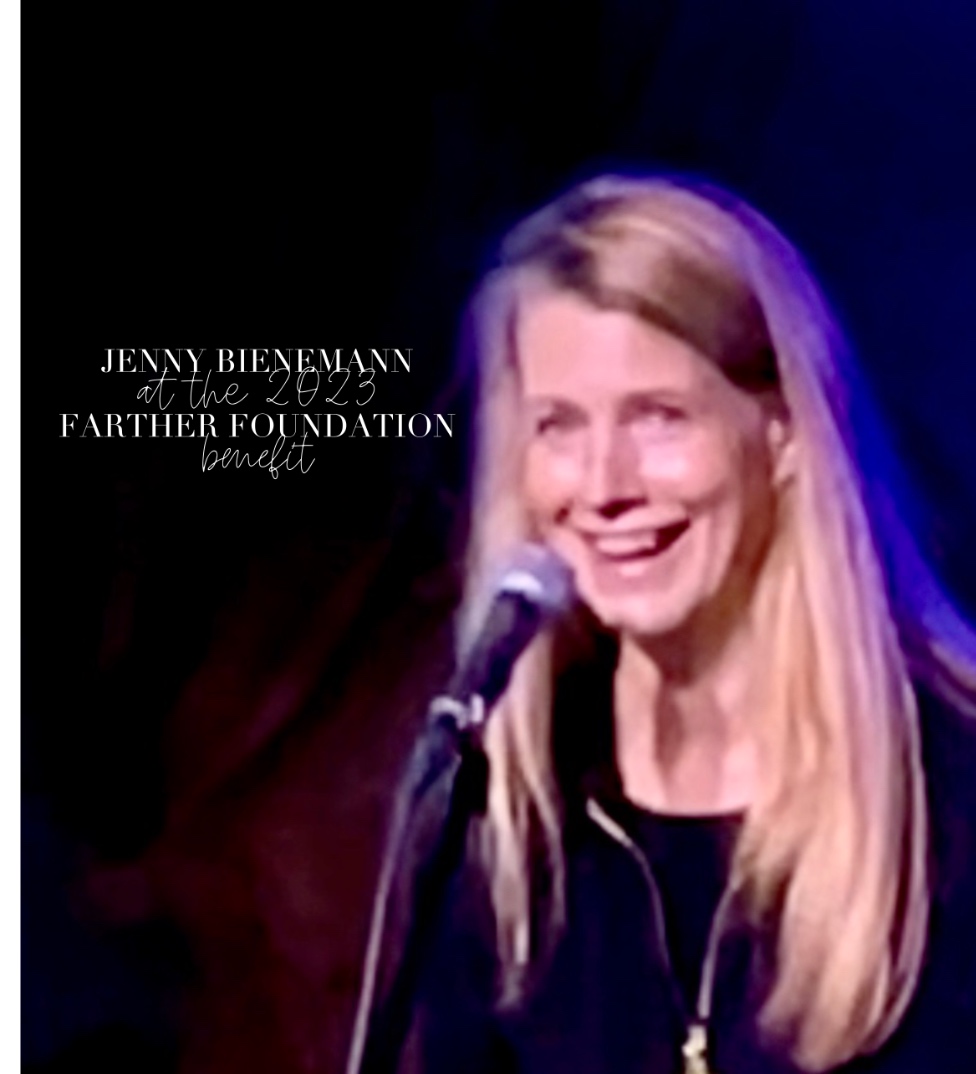 I had the good fortune of learning about the Farther Foundation, and speaking at their benefit this past Thursday.  

In addition to helping a great cause and helping send young scholars to travel the world to inform their aspirations for themselves and their future, it was a chance for me to reflect on my life, past and future and dig deeper into elements I have been sharing with you in this blog.

If you click this link or the photo, you will be taken to the video of me reading the story. There are captions! If you prefer to read it on the page, you'll find it below.

Either way, I hope you will take a moment and learn more about The Farther Foundation.

​———————————————
"As we learned in 5th grade, Haiku is a Japanese poetic form that consists of three lines, with five syllables in the first line, seven in the second, and five in the third.
I started writing haiku as a way to be creative every day, and because I thought it would be faster than writing a song.
That madcap misunderstanding has kept me very busy for the last six years. When I started, I hoped the endeavor would blossom; and it did, it just didn't make me faster at writing songs.
One of the great pleasures of Haiku is counting the syllables with your fingers. I invite you to do as I do, place your hand over your heart, and count along:
If you told me then //  Things would be like they are now // I would be amazed
What do you think of, when you think of things that have blossomed, but not in the way that you planned? Maybe you think of yourself, your garden? Maybe it makes you think of your mother. If you're like me, it makes you think of all three.
My Saintly Mother, Loretta Ann Carol Marie Therese Lind. Mrs. McCarthy, as they called her at the High School, or as I called her in the grocery store when she wouldn't turn around after I yelled MOM! a thousand times.

If you said Mrs. McCarthy she would turn around and give you her full attention, unless it turned out that you were me, calling her Mrs. McCarthy because you knew she had been deliberately ignoring your poorly behaved self as you wandered the aisles begging for a treat until she had no alternative but either lose her mind or push the cart forward and pretend she didn't know you.
This all took place in Naperville, just to the west of us. We grew up in Naperville, Illinois, when Naperville was a little river town, set on the roaring DuPage River, which was neither roaring nor hardly deserving the title of River.
What is currently known in Naperville as the Riverwalk, was where you took your recycling.
There was a bridge along that river, the middle of town, Washington Street Bridge, where flanks of hippies sat, wedged one next to the other, inspiring dark imaginings and the fear that one of them might fall off the bridge in a fit of blissful inebriation. "Don't look at them," my mom would say to us, clutching my dad's arm in an ultimately successful effort to control his impulse to push the peace-loving hippies off the bridge into the river.
Meanwhile some guy who went to Naperville North High School (the wrong high school) would go on to pen a joke for Chris Farley about living in a van down by the river. Story for another time, but yes, Bob Odenkirk went to Naperville North High School around the time my older sister went to Naperville Central High School (the right one), and as an early career, unknown SNL writer, he penned an iconic sketch for the now-deceased icon, that grew out of my home town, Naperville, Il. But I digress.
Back to my saintly, still alive, still feisty mother. She wants you to know she is either sweet 16 or 105, whichever you prefer, and she has been on the planet long enough to learn a few things.  One of them, is how to lower your center of gravity so when your children try to pick you up they can't actually do it.

Except for this one time...

We were in Alton's Drugstore in Naperville, Illinois. My little sister and I had been trying to lift her off her feet for YEARS, and through some amazing convergence of events, we successfully caught my mother just before she could lower her center of gravity and lifted her into the grocery cart. 

None of the three of us could believe it. The achievement shocked us into silence. We had to lift her out of the cart, and then she just walked out of the store. My sister and I just looked at each other, followed her, and never spoke of it again. My saintly Mother.

We were the four McCarthy children, born of a Northside/Southside marriage, to parents who each had only one parent from the time they were young. We did what was required of every child growing up: having opinions, testing limits, lifting each other into grocery carts...and they did their part. 
Trying to hold back the young hellions from their own untimely demise, trying to protect us from the riptides of the past, and trying to prepare their children for a future none of us could have anticipated.
I think my Mom thought she would be raising four similarly-saintly children. She kept our faces clean, tried valiantly to keep us on the straight and narrow, and trained up us in the way she (and my dearly deceased father) believed we should us to go.
Yet despite her best efforts to tame what she might have termed "the weeds" growing up in our personalities, all four of her kids went their own respective ways. And while all four are gainfully employed and changing the world in own respective ways, only three of them got married, one of them twice. Only two of them had children, one just within a hair's breadth of wedlock. Only one of them brought grandchildren into the world (so far.)
Can you imagine what she must think, when she thinks about what she was trying to do, and what actually happened?
Place your hand on your heart with me again, if you will.
hopes for the future // I should have used a pencil // but I used a pen
not all dreams come true // not all dreams are supposed to // that's the point of dreams
how sweet the visions // that made me do all I did // and become myself
This makes me think of my garden.  

Over the course of the 20 years we've lived in this house I have invested the proverbial blood, sweat, and tears, as well as copious financial resources, into a garden that for whatever reason simply will not take.  I have even had a garden service keep the earth around my fledgling plants weed free to support their growth! 
One day through a misunderstanding, the gardeners came and they removed all vegetation. I called them, while the operator was sympathetic, the owner of the company was not. When it came time for them to do the fall cleanup, as we have paid green green American money to have them do for us for the past 15 years, he said we don't have a time for your house.
That day I turned to a dear friend who is excellent at gardening and said: what do we do? These patches of dirt have hosted countless plants, and been lovingly maintained to the limits of my imagination! Nothing seems to grow. Even the vinca vine bought from a reputable establishment only hunkers down in its own little cluster, and though its branches reach towards each other from plant to plant, each year the attempt seems a little more halfhearted.

She said that focus on keeping the planting beds "clean" means the soil has received no nourishment, and that those patches of dirt, weed free as they may be, will admit no growth.
Does this sound familiar? The weed-free, shining-faced garden beds, clean, on the straight and narrow, and trained up in the way we believed they should go?
And then, I happened to notice the vinca vine I planted under my yew bushes had jumped the cement sidewalk into my neighbor's yard, where it is THRIVING!
My garden had a mind of its own.
This makes me think of my Mom.

Much of the good my Mom, at great personal expense, tried to do to get us to bloom in the direction she thought we should go, might look to her like it did not take. 

But just like the vinca, the gifts she gave us did take root, and they did blossom just like she hoped they would, just maybe not in the way she thought they should.
This makes me think of Haiku Milieu. On some level, I was trying to "fix" a deficiency, and train myself to be "more" creative, "more" quickly.
In the process, I learned two things:
One: all I can do is permit the forces of creativity to move through me, I can't dictate what it turns into.
Second, it takes a village. It takes friends, and family, and community. Especially now.
Whatever it takes to forgive others, and yourself, is worth it. When things don't turn out the way you planned, forgive. When you forget to lower your center of gravity and your kids lift you up and put you in a grocery cart in front of God and everybody, forgive.

Because love for the people who surround you is what inspired you to try anything, and is what makes life worth writing about.
Hands on hearts again please.
by the light of day // the mistakes were innocent // the sun rests its case
it is not your job // to fix other people, just // to love who they are
one day we will see // that things only could have gone // the way that they went."