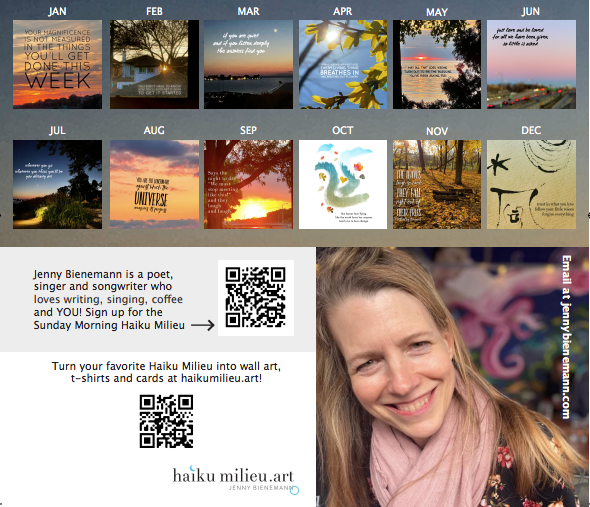 Sending this with the very warmest Thanksgiving greetings!  
I hope your Season is off to a beautiful start.   
As I write this, the rain is falling with a gentle insistence, as if to say:  
Do the things you got talked out of doing.    
Forgive the people who don't even know they've wronged you, including yourself.  
Shelter what is true in you, and in others.  
Saying these things is one thing; doing them is another. So I made the first-ever Haiku Milieu Calendar for 2023 to keep us both company in the coming year.   
It's stocking stuffer size, just 4.75 x 4.75. It will fit in a purse or a pocket, hang on a nail, or perch on your desk.   
My hope is the calendar will do for you what the rain is doing for me: reminding you to do the things, forgive the things, and protect the things.  The "things" you say?  Yes, the things. The things that I can't know for you and you can't know for me.  If that sounds like a lot, just know I'll be doing too, at the same time as you.  
Let's DO this!  
Shipping begins on December 2.   You can order the 2023 Haiku Milieu Calendar and the brand-new 2022 Holiday Card at haikumilieu.com.