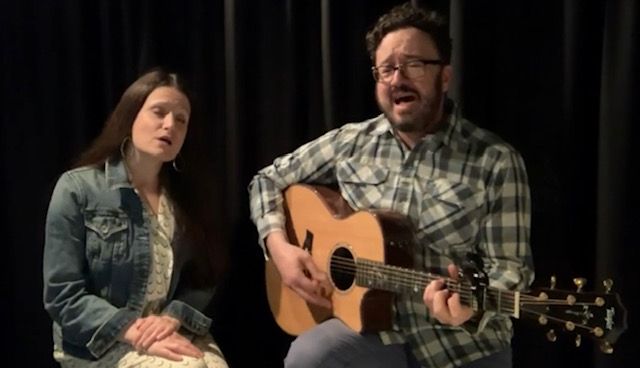 Ashley & Simpson are Jennifer Ashley and Joel Simpson. Jennifer is a classically trained pianist, and also plays guitar and banjo; Joel plays guitar, mandolin, dobro, banjo and bass.  
Ashley & Simpson are folk scene favorites.  They bring traditional and original songs to life with incredible musicianship and beautiful harmonies.  They operate the independent label Randomosity Records, are hard at work on their third album, and you'll often see them volunteering at Folk events in the region. 
As if that wasn't enough, in 2020, they stepped forward to serve as Directors of Two Way Street Coffeehouse in Downers Grove, Illinois, where they have been maintaining a full schedule of live streamed concerts and other events. 
If you're thinking, "oh, they're married, so that's how they get it all done," think again!  They are not married…to each other, that is.  Joel and Jennifer live in neighboring Western suburbs, each with their own respective spouses, and three children apiece.  
So, how do they do it all, you ask?  We are scratching our heads on that one too. 
The April, 2021 Haiku Milieu show was all about Duos.  Robin and I developed a list of our favorite duos, and Ashley and Simpson were at the top of that list.  
But now, knowing what you know about the good work they are doing in the world, you'll understand why when we asked, we knew we had to be prepared for any answer. 
Guess what? 
Not only did they say not say no, they were the first to turn in a draft of their song, and the first to turn in their completed video.  You can see it here. 
And when I asked them to take a moment to reflect on their process for this blog and gave them a deadline…Jennifer got it back to me with days to spare!  
She says an awful lot of nice things about me here [blush] for which I am grateful – and even more grateful to be part of their musical community. 
Enjoy this blog. 
"There's this thing about Jenny's haikus.  A few succinct words, with a result so profound, so relevant, so real, and often so timely that I wonder if Jenny is a fly on the wall in my head.  How does she know?  Like, for real. 
  
We are such fans of Jenny.  Let's just peruse them, we said.  It'll be easy, we said. 
  
We were overwhelmed, to say the least, by the sheer volume of wisdom.  How do we choose?  So, we printed out ten or so that we both agreed spoke to us and arranged them on the table. 
  
But wait.  I should back up and set the stage.  
  
Joel and I have been working on a collection of original songs for our next album, "Hello, Mrs. Sun."  
  
It was started well before the pandemic, yet somehow even those early songs knew just what was coming. 
  
This has been a time for difficult, immense changes and emotions.  Intense personal reflection, coming to an understanding of one's own truth, and the hope, freedom and strength that ultimately comes from this struggle. 
  
But the bottom line is--you've got to be true to yourself and each other to really be free.  
  
It's such a simple, yet infuriatingly hard lesson, isn't it?  A lot of the songs we have been writing for this album reflect the infinite facets of how truth reveals itself and what comes next. 
  
So, in hindsight, it is no wonder that the haikus with themes of truth came popping to the surface, begging to be recognized, as if raising their hands, calling "Me! Me!"  
  
Four of them magically arranged themselves on the coffee table in front of us, and "Tell Me Your Secrets" was born.  The melody was already forming in Joel's head, and demanded its place as an anthem of truth. 
  
We love it, and are really just forever grateful to Jenny for the limitless inspiration that she provides to us all. 
  
Jennifer Ashley, for Ashley & Simpson