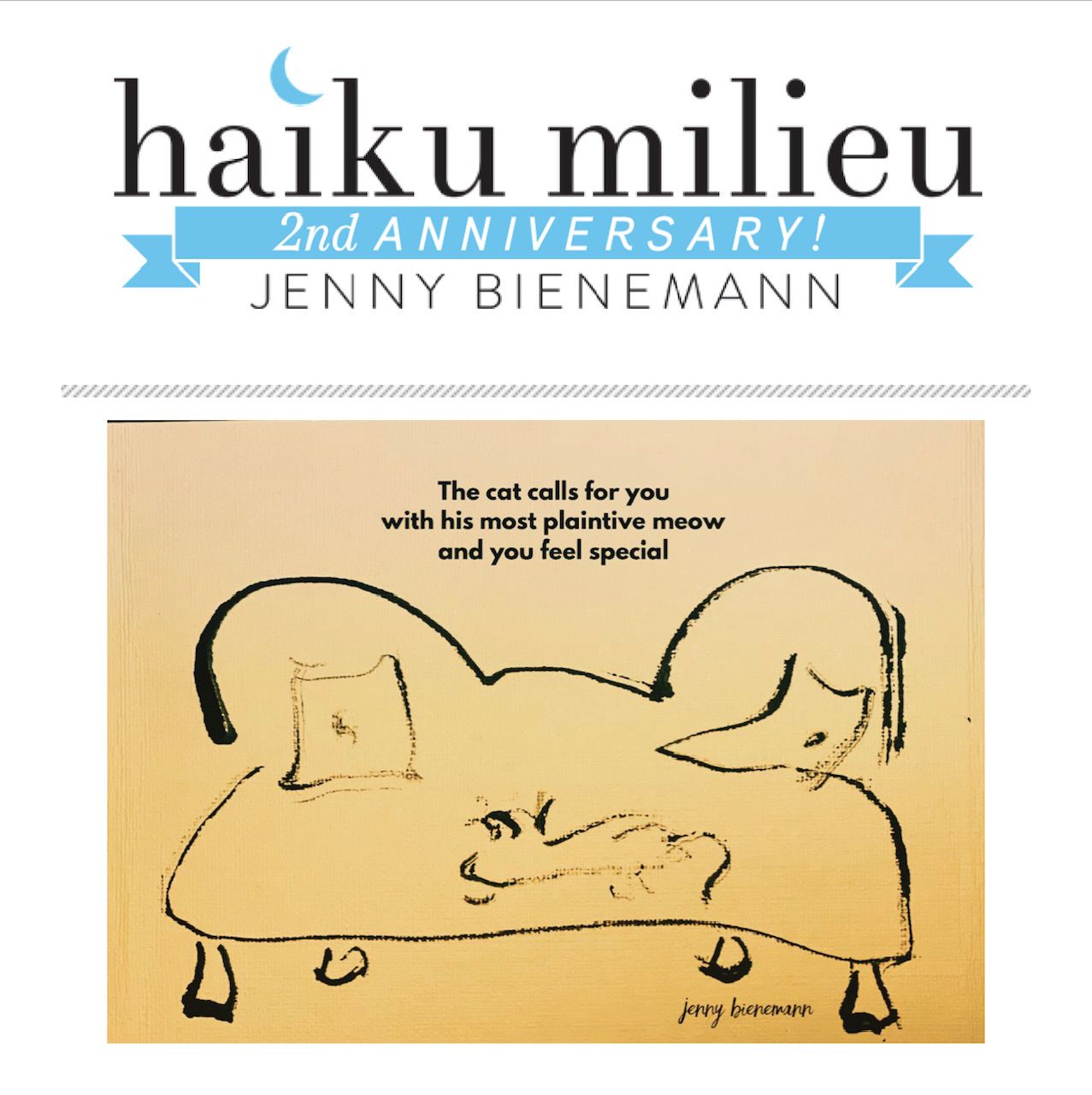 Happy 2nd Anniversary!  
I started posting a haiku and image on September 10, 2017, and the Sunday Haiku Milieu email launched on September 1, 2019. Special thanks to Cathie Van Wert Menard, who's helped with the design of this email from its inception.
If you are not already, you can experience email magic every Sunday by signing up at haikumilieu.com.
Each year at this time, I like to take a moment, remember where I was, who I was, what I was doing, and what I thought was going to happen next.  
I don't think things have turned out as any of us thought they would, in the last year or so. 
Maybe at times like this more than ever, it's good to remember to surrender, to recognize that among all your best laid plans, life is going to have its way.  The upside?  If you pay attention, you're going to learn things. 
What Haiku Milieu continues to teach me is that if you want to be a participant rather than an innocent bystander in your own life, you better pick up the brush, or the pen, or the musical instrument, and stop resisting the flow of life moving through you. 
CREATE.  SHARE.  REPEAT. 
And of all that's different now, in my personal and professional lives, in our world, and in the lives of my friends, I find that the one thing that was most important to me, IS actually happening as I thought it would. 
We're having fun keeping each other company on our walk through this life.  
As if that were not enough, Haiku Milieu is now more than a thousand readers strong, the Haiku Milieu Universe has expanded to present the music, art and reflections of hundreds of artists, and we continue to dream up new things to do and share with you to lift up and celebrate the extraordinary in the every day. 
THANK YOU.  This continues to be one of the most extraordinary experiences of my life.  
What comes next? 
Well, we're figuring that out as we speak. 
The Haiku Milieu survey closed Friday, September 3 at midnight.  We're going to take the next week, go through the responses, and circle back with you on the 2021 Haiku Milieu holiday offerings.  
Sneak peek: I was surprised and delighted by the groundswell of support for notecards of haiku that were accompanied by ink drawings!  INTRIGUING.  Stay tuned. 
You may remember, each Sunday in September, our Anniversary month, we'll feature a long-form haiku poem that was written over the last year.   
Inspired by our survey responses, this week we feature an ink drawing from February 23, 2021, "The Cat Calls for You:" 
It was the end of the workday, and I had not yet "haikued" as I have come to call it.  The light had long since fled, and along with it the workday, though I was not yet finished with my work.  
I often sit right on the edge of my chair, feet flat on the ground, to make it easier to sit up straight and not hunch over the computer.  The cat will sometimes find his way between my back and the back of the chair.  It's warm (for him) and comforting (for me).   
On that particular day, he had gone from between my back and the chair, to my lap, to a nearby couch, all the while making it plain that he was not pleased with my hands on the computer keyboard, rather than the soft fur behind his ears. 
Tristan is...irresistible.  Abandon all hope of productivity, ye who live with Tristan (or any cat.)  
"Robin," I called, getting up from the computer, "your cat's coming on to me..." 
And this long-form Haiku was born:
The cat calls for you 
with his most plaintive meow 
and you feel special 
just one step closer 
and you will be there all night 
sleeping on the couch 
though it is your couch 
he does all the inviting 
languid and obscene 
you should know better 
It's just that he asked for you, 
specifically 
You tell your husband 
"your cat's coming on to me," 
He just laughs and laughs 
Truth is, we both know 
he'd sleep all night on the couch 
if the cat asked him 
but tonight, it's you 
the cat, flipping on his back, 
knows you won't say no 
When you wake, he's gone 
you knew he would be, yet hope 
he asks you again