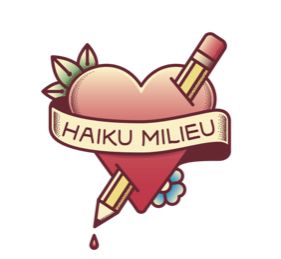 On the Friday of Labor Day weekend, September 2022, 20 artists took the FitzGerald's Sidebar stage by storm, bringing their new songs and spoken word pieces into the world, aided and abetted by an incredible band.
Originally intended as a one-night event, it morphed into 'Haiku Milieu at Twilight' at Montrose Saloon in July and 'Haiku Milieu After Dark' at FitzGerald's. Two different shows, two bands; many different songwriters, one concept: write a sexy song from a Haiku Milieu image/haiku.
Getting to watch the show from my privileged position, I learned again what I have learned and forgotten so many times: the sexiest thing on earth is someone who is very good at doing something, doing what they do. Doesn't matter who they are, what they look like or what it is they're actually doing. There is something powerfully compelling about people being incredibly good at what they do.
So, of course, Friday night was super sexy. Great artists, great people, being great at what they do, writing and sharing their original music. And the audiences that sign on for these shows? Listening like that? Also super sexy.
Artists and audiences willing to share recently-created work in such a public sphere are a special breed. We are a clan. A tribe. A gang! And to prove it, now we have the (temporary) Haiku Milieu tattoo.
Here are the rules of our gang:
1. Do whatever you want.
2. Do it whenever you want.
3. Make something beautiful as often as you can: a meal. a poem. a song. a picture. a conversation.
THAT'S IT! You can get your temporary tattoo from me at a show. I'll also be sending them as gifts with purchases during the holidays.
Meanwhile - enjoy the gallery of photos from the Friday night. The first photo is by John Wendland, himself a Haiku Milieu artist, visiting with his new bride Jenny Heim, a contributor to the Haiku Your Milieu section of the Sunday email. The rest are by me, until I got absorbed in pre-show hijinks. Alicia Luna has great pictures from the night on Facebook, if you're interested.
And for those who were not able to be there...after the Haiku Milieu at Twilight show, I wrote about the mysterious phenomenon of "feedback" from the from the mics and the PA (public address system.)
At Haiku After Dark, we came to the realization that it actually IS feedback, from our creative muses! This "feedback" is properly understood as applause from the very heart of creation. We were blessed with just the right amount of it on Friday.
Finally…and I can't believe it myself...the first Sunday of September is the Anniversary of the Sunday Haiku Milieu Email! Three years so far! WHAT?!?
The second Sunday of September is the day I started writing a haiku to an image five years ago (September 10, 2017) so next Sunday is the true anniversary. While we'll celebrate our anniversary throughout September with longer-form haiku poems and more. I can only say that it continues to be life-changing to be on this journey with you, my dear friends and readers.
If you are not already a subscriber, simply go to jennybienemann.com or haikumilieu.com and sign up. I only share the Sunday haikus with that group. They get to read the blog first, hear new songs first, and get special discounts on books, t-shirts, cards, CDs, and more. And of course you can unsubscribe at any time.
Most importantly though, my subscribers and I, we inspire each other. I am literally thinking of them as I compose the haiku, speaking directly to them in the blog, and it is for them that I won't let myself go to sleep on Saturday (Sunday morning, quite often!) until the email feels right. It really is true, the more the merrier; also the deeper, the truer, and the more connected to what brings genuine joy into the world.
Thank you for being part of this. I hope you'll come see us at an upcoming show so I can thank you in person.
With Naomi Ashley, Robin Bienemann, Andon Davis, Kara Kesselring, Aaron Kelly, Ron Lazzeretti, Nikki O'Neill, Al Rose, Cheryl Tomblin, Jodi Pulick Walker, Paul Wendell Obis, Amy Lazzeretti, Isaac David Lyons, Steve Doyle, Steven Hashimoto, John Abbey, Cathie Van Wert Menard.