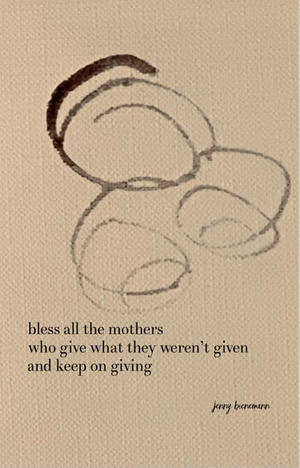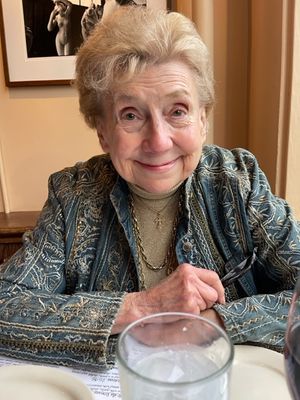 There she is, my mom. Isn't she lovely?  She doesn't want me to tell you how old she is.  She tells me she reads this, but I have my doubts.  I bet I could get away with it.  Still, out of an abundance of caution and even more love, I won't. 
What IS important for me to tell you about this mom of mine is that her name is Loretta Anna Carla Marie Therese Lind McCarthy.  She was an only child, raised during the Great Depression by her mother, my grandmother Constance (Connie) who I never met, a widow who lost her young husband, and ran her own hairdressing business. 
Because of the business, they got through the depression.  Connie was able to have a credit card, get a business loan, and buy my great-grandfather's house off Fullerton near the end of the streetcar line, where he would live with them through the end of his life.  They kept chickens that hatched from colored chicks my mom got for Easter.  One time my mom brought a pet rabbit home, and my grandmother's much-younger brother Roman, the "spoiled one," was too rough with it. What happened to the rabbit and what didn't happen to the uncle is a story for another time. 
Sometimes my mom will reflect on how truly poor people were in the Great Depression. Credit cards were not available, there wasn't junk food the way there is today, and it was much more than possible that great swaths of our population went to bed hungry. 
Back then, whole families would knock on the door asking for something to eat.  My grandmother would invite them on the porch and give them a bit of whatever she could spare. 
Connie never remarried, though my mom will admit that in her heart she hoped that her mom and my dad's dad, Thomas McCarthy Sr., who had also become a widower when his kids were young, would get married.  Or at least find solace in each others company. 
They both passed before I arrived on the scene. I know that they did not marry, and whether or not they enjoyed each other's company, they both most definitely adored my older sister and my brother.  And by and large, my parent's life at that point, was perfect. 
Except for one thing: my mom was determined to have more children.  And once she had me, her desire for one more intensified.  She was determined that I, who was four and a half years younger than my brother, would not be an "only" child as she had been.  Lori McCarthy is the original person who set out to give her children something she never had: siblings. 
My mom would tell you she was robbed of the chance to have as many kids as she wanted (she had four but would have preferred six) due to O negative blood and Rh incompatibility, which is now easily addressed. 
In fact, during my mom's last pregnancy there were all kinds of dire predictions: the child, who was expected to be a boy, would be gravely ill and would need a blood transfusion at birth, if he was even born alive. 
With the priest on call and my nervous father pacing outside the delivery room, my little sister upended expectations -- as she would continue to do throughout her life -- first, by being a girl; second, by being hale and hearty; and third, by being endowed with the most adorable Irish button nose.  Turns out that She of the Cute Countenance had O negative blood which had created no incompatibility! 
Despite these incontrovertible facts of science, the maiden aunts of our neighbors down the block hailed her healthy birth as a miracle, and the direct result of their prayers. Seizing the moment, the good doctor prudently suggested the family not be greedy with miracles, and my mom agreed to not try for any more children. 
So now the family was complete: my older sister is six years older than me, my brother is four and a half years older than me, and my little sister is eighteen months younger than me. 
The desire to give your children better than you received is beautiful; the endeavor to get what you think they need, ennobling; and the experience of knowing you did it is cathartic. 
In my own life, I set out to give my children what I felt I never had.  As a matter of fact, I don't know anyone who didn't try to give their kids what they wished they had received. 
As a parent, out of shoelaces and chewing gum you cobble together a rope bridge across the yawning chasm from what you wish you had to what your children will have, or at least will have a chance to have, relieved and exhausted that you made it to the other side. 
Yet they will inevitably, at some point, wish you had done it better.  And very likely, you will too. 
And you know what?  THAT'S the miracle. 
The wish that it could have been done better, and the belief that it CAN be done better, is what brings new worlds into existence. 
The gap between the best we could do and the best they can do from where you got them to, is what catapults us forward. 
So this Mother's Day, we celebrate what so many mothers went through to change their children's worlds for the better. 
For the children of those mothers -- whether or not their mom did their best, didn't try at all, or did what they could -- who will grow up and then go on to make it different for their children, this Mother's Day, let's celebrate them too.  Happy Mother's Day to The Mothers That Will Be. 
And whether you are an actual mother to human children or not...we are all the mothers of our own experience. 
And every single time you try to make something better for someone else than it was for you... 
You are being a really exceptional parent. 
Happy Mother's Day.