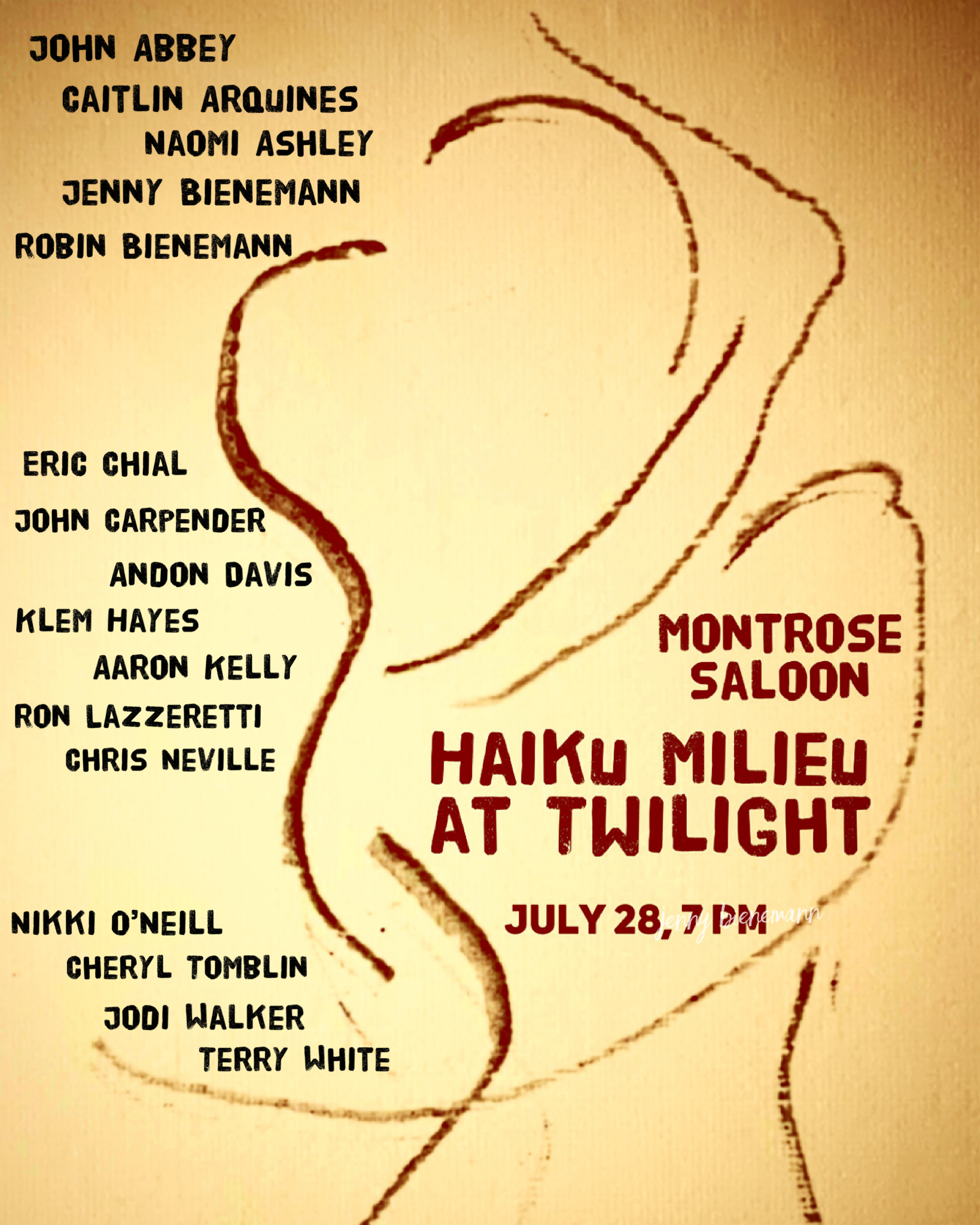 This coming Thursday, July 28 at Montrose Saloon is the first-ever Haiku Milieu at Twilight! 
Two Haiku Milieu regulars, Andon Davis and Chris Neville came running up to me after a show, saying "Hear us out!  Don't say no!" and pitched the idea of Haiku Milieu After Dark, a sort of sexy haiku songs concept.  
Most things in life can be bought if you have the money. But the things that make your life worth living?  No money, no bargain, no trades will do the trick.  You literally cannot purchase things like enthusiasm with anything than your own willingness to have and hold it.  
This is what Andon and Chris were sharing with me, wrapped in what was actually a pretty good idea.  And so "Haiku Milieu After Dark" was born. 
When we had to reschedule the show, it split into two: Haiku at Twilight, happening from 7-9 pm at Montrose Saloon, and Haiku After Dark, happening 9-11 pm at FitzGerald's, to give ourselves the best shot at accommodating all the artists who'd been writing songs for May.   
For the first time ever, these new songs will be brought to life with a band, John Abbey and Dan Leali in July and Steve Doyle, Steve Hashimoto, and Lance Helgeson in August! 
It seemed like it would be reasonably simple to swap one show into two.  I mean, what could go wrong?!? 
But now there were two backing bands to secure.  Swaps in and out of two artist rosters.  A new video team to secure for two concerts (the Haiku Milieu YouTube channel the songs inspired by Haiku Milieu.)  And lest we forget - we needed to honor the public outcry for a Haiku After Dark t-shirt!  You can purchase your very own at haikumilieu.com.
So it happened a few days ago that I was working on something that I was mad at myself for putting off.  I knew I would feel better if I just got it done...but I couldn't get myself to do it.  (Spoiler alert: it got done.) 
As I was trying to get myself going on it, I wrote this poem, and it made me feel better, as any bit of creative activity usually does.  I hope you enjoy it.  
GOD SAYS 
Jenny Bienemann 
God says 
"What are you doing, making yourself feel bad... 
Look at this day!" 
"Tell you what I'll do," says God. 
"How about I throw in a nice breeze. 
A little sunshine through the leaves - look at that!  
See the shadows the leaves make 
when I blow through them?  
Here, I'll do it again."  
"Now how about this," announces God, 
"Because you're you and I'm Me, 
I'm gonna have the sound of the expressway 
land in your ears like rushing water 
careening joyfully to the sea. 
Can you hear it now? 
I can turn it up if you want," says God. 
"This next one, though," says God, 
shaking His head, 
"you have to give me your permission for this but 
if you do, I can tune your heart 
so the gentle rumble of airplanes overhead 
makes you feel connected to all those who 
have found a way to go from where they were 
to where they want to be. 
Kinda helps with that lonely feeling. 
Totally up to you," says God. 
"I'd love to... 
but it's totally up to you." 
I let the cardinal 
perched in the nearby tree 
sing the answer on my behalf 
and just at that moment 
I saw my work through his eyes 
and what do you know 
just before he flew off 
I got started