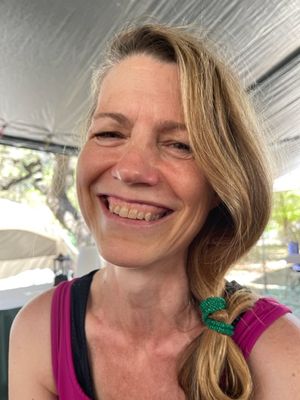 This photo is me getting a taste of my own medicine from wonderful singer and songwriter Kirsten Maxwell.  
I had just taken entirely-too-close-up shots of the Kerrville finalists who were still around on Saturday night, and she insisted that it was my turn.  Turns out, either she's great at capturing the moment, or my medicine is delicious!  My money is on the former.  
Still processing all that happened a week ago in Texas.  
I loved being there.  I attended as Robin's "plus one," and Kirsten (who had been a New Folk finalist previously) attended as another finalist's plus one.  Kirsten was an instigator in the best sense: the one starting to sing the show tunes and the obscure art songs that blossomed into glorious harmonies from the rest of the finalists. The one starting the laughter that rippled out only to regenerate and renew itself, over and over.  
And one of the most hilarious conversations I had the entire week was with Maggie, another plus one, a woman who has elevated the gentle art of driving from point a to point b into the highest of callings.  Driving behind a truck is not for her, she says, "unless that truck is an on-ramp to the sky."  
Throughout my years as an arts administrator, I witnessed how perplexing it can be to go from nobody knowing who you are, to having people greeting you on the street as if you're picking up in the middle of a conversation you never even participated in.  
It was a little like that at Kerrville.  If you are a New Folk Finalist, you are lavished with an uncommon variety of love and appreciation. There are 3,000 attendees, and they talk about songwriters there like other people might talk about their beloved baseball players.  
For the most part, the recognition was welcome and the conversations were delightful (at least from what I witnessed and heard about.)  But still, can anything really prepare you for being the apple of thousands of people's eye?  And even more significantly, what happens when you have a taste of that kind of recognition...and then have to return to the dailiness of daily life?  
As they say, after the ecstasy, the laundry.  This is why it's good to have that plus one, the person who knows you, who represents "ordinary" life while you're having an extraordinary experience, who can help you stay grounded during the epic highs and the lows.  
One of the little writing tricks I use myself and share in workshops is to put yourself in the place of someone having a very different experience than you. If you're a woman, write as if you're a man; if you're young, write as if you are older; or as in the case of the poem below, if you are a plus one, write from the perspective of a finalist.  
I came upon a draft of this poem this week.  I wrote it before Kerrville.  I believe I woke up out of deep sleep with the phrase, "the meager blanket of her praise has worn threadbare..."  
Having had the privilege of watching the 24 finalists rocket into outer space, then witness my own personal finalist come back into his own orbit, I edited the poem as follows.  
THE TEAKETTLE WHISTLES  
When through overuse  
the blanket of her praise  
has worn threadbare  
I reach for it anyway  
shivering in the icy breath  
of my own indictments  
Falling  
into troubled sleep  
anxious and worried  
what if and why  
And most of  
all why not?  
When?  
Ever?  
The answer comes  
as the inexorable dawn  
swallows me whole  
spits me out the other side  
of darkness  
her breath on my shoulder  
mouth slack in sleep  
brow troubled  
as if through the night  
all my burdens  
had become hers  
I kiss her gently  
I wish it would make  
her brow unfurrow  
to say I am sorry and thank you  
in the words  
only a heart can hear  
but she turns,  
frowning slightly  
I pull back the covers to get out of bed  
then pull them back up  
to keep her warm  
and go make coffee  
in our kitchen  
the birds outside the kitchen window  
know nothing of the spirit of a person  
how quick to enthusiasm  
then despair, then love;  
again and again  
and all through the prism  
of a body and mind  
so rarely in accord  
so often fighting each other  
circling the jaws of the rusty metal trap  
the other laid for it  
the earth hard and compacted  
in a deep groove, yet oddly soft  
from the endless dance of wariness  
No, the birds know nothing of this  
they are at one with life  
spirit of the poet  
brush of the painter  
rush of the wings of inspiration  
And I listen to them  
Boiling water, lost in thought  
Coming back to myself  
I see her beside me  
quiet as the dawn  
she comes to me  
in her bathrobe as tattered  
as I felt last night, and  
puts her arms around me  
as the teakettle whistles