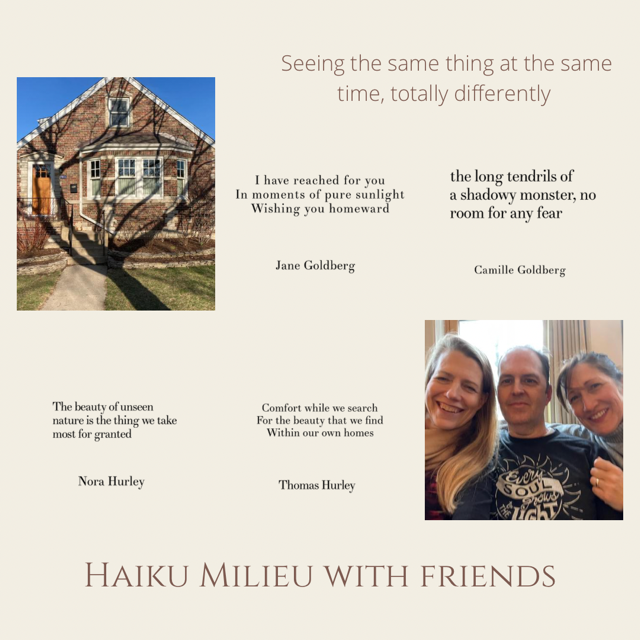 Every year, we celebrate "FriendsMass," Christmas with my friends from college.  It is a moment of sanity in what is typically an insane season.   
Due to Covid, we missed the last two years, and finally got together this weekend. Between the now and the last time we were together, our beloved friend's kids did what kids do: got tall, got great, and got more grown up than we anticipated.  Speaking for this delighted adult, I have great hope for the world with these young people in it. 
Whenever we have the luxury of time with our friends from college or otherwise, we always seem to wind up writing something.  Most of the time, they protest and must be cajoled, at least initially, to participate.  Not so with this group!  We try to get together over a long weekend each Summer, and the last time I called everyone back inside from the forest saying, "It's time to write haiku," the youngest member of our party said, "Hooray!" 
So, gathering on the North side of the City, when my friend Jane shared a glorious photo of the shadow of a tree cast over her house, members of our party were ready to go.  And for the first time, the Haiku Your Milieu section has a collection of poems written in the same place, at the same time, and about the same image.  
I won't tell you who's related to who, or the ages of the haiku writers.  The haiku are remarkable on their own, but taken as a group they show how people can look at the exact same thing in the exact same place and still see it completely differently. 
I believe in creativity for its own sake.  But if I didn't, I'd like to think I'd be won over by the beautiful way that writing something (or drawing, or building something, etc.) even when it is not done in collaboration with others, but individually in the company of others doing the same thing, strengthens each person's sense of self and allows them to be seen and known more fully by others. 
Try it yourself and see.  And if you try this at a gathering on your own, let me know how it goes.  If you'd like to share what you've written, I'll be delighted!